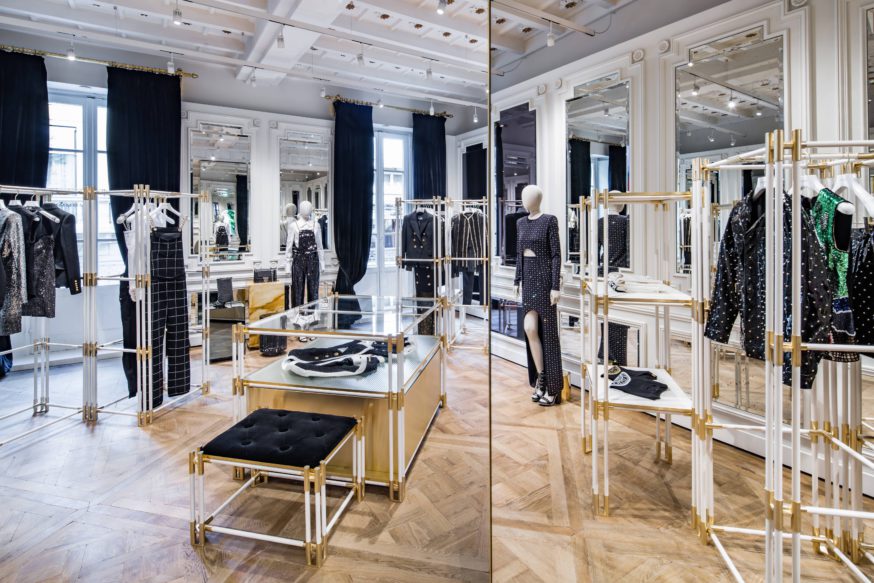 BALMAIN FLAGSHIP STORE MONTENAPOLEONE
STUDIO AMV WAS IN CHARGE TO ESTABLISH THE NEW CONCEPT OF BALMAIN STORES. THE BALMAIN MILAN FLAGSHIP WAS THE FIRST THAT OPENED WITH THE NEW IDENTITY. 
THE SPECIFICATION OF THE CONCEPT ESTABLISHED TWO MAIN AXES OF DEVELOPMENT: TO VALUE THE IDENTITY CODES OF THE PARISIAN LUXURY HOUSE OF FASHION AND TO ORCHESTRATE THE NEW MERCHANDISING STRATEGY.
THE NEW RETAIL CONCEPT BRINGS OUT THE IDENTITY AND INHERITANCE OF THE PARIS BALMAIN HOUSE, BASED ON DIVISION OF THE SPACE INTO A SERIES OF CONNECTED, DISTINCT ROOMS, EACH INSPIRED BY THE LOOK OF A LIVING PARISIAN SPACE: LIBRARY, GARDEN, BOUDOIR.
JUST LIKE IN AN APARTMENT, THE VISITOR WILL WALK IN THE BOUTIQUE, FROM ONE ROOM TO THE OTHER, EACH ASSOCIATED WITH ON KEY BALMAIN SIGNATURE. THE PARQUET, MOLDINGS, CHANDELIERS, CURTAINS AND MIRRORS, ALL MAKE CLEAR REFERENCES TO CLASSIC ELEMENTS OF PARISIAN ARCHITECTURE.