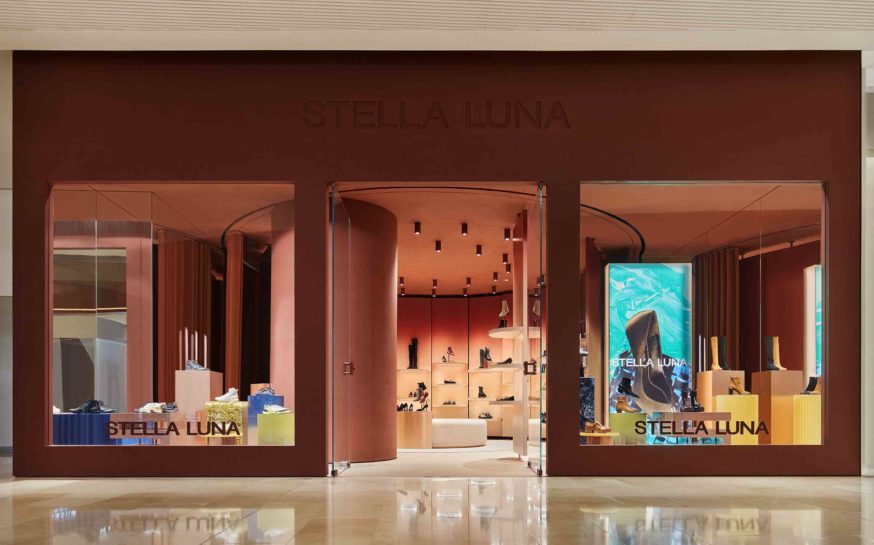 FLAGSHIP STELLA LUNA GUANGZHOU, CHINA
STELLA LUNA IS BRINGING AN ELEVATED RETAIL EXPERIENCE TO ITS BRAND-NEW FLAGSHIP STORE IN GUANGZHOU, CHINA. IN ULTIMATE PURSUIT OF THE UNIQUE CONTEMPORARY AESTHETICS OWNED BY THE HOUSE, THE NEW FLAGSHIP STORE, UNDER CREATIVE AND CRAFTSMANSHIP OF RENOWNED ARCHITECTURE TEAM, STUDIO AMV. 
THE ELEVATED BRANDED SPACE BLENDS IN VARIOUS ELEMENTS IN HARMONY Y MIXING AND BALANCING A PALETTE OF WARM COLORS IN DIVERS MATERIALS, AS WELL AS IN AN ARRAY OF ELEMENTS AND FIXTURES, OTH REFLECTIVE AND MATTE, TRANSPARENT AND OPAQUE, ORGANIC YET TECH VISIONARY, ALLOWING AN IMMERSIVE, INDULGING BRANDING EXPERIENCE TO COSTUMERS THAT AKIN TO THE UNIQUE ARTISTIC, APPROACH THAT CELEBRATED BY STELLA LUNA.