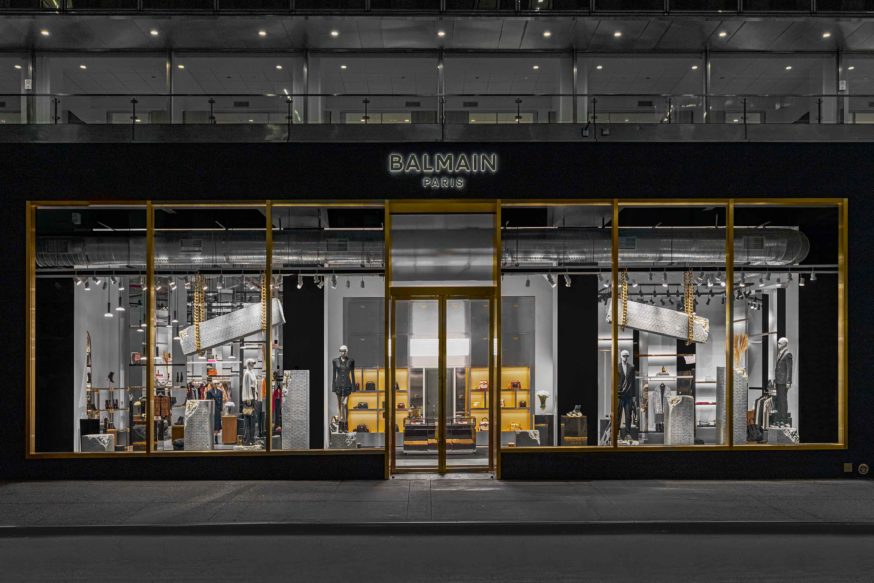 FLAGSHIP BALMAIN MADISON, NEW YORK
THE PARISIAN HOUSE HAS RETURNED TO THE SAME UPPER EAST SIDE NEIGHBORHOOD WHERE IT OPENED IT'S FIRST AMERICAN STORE.
THE NEW STORE DESIGN AIMS TO REFLECT THE UNIQUE SPITIT OF NEW YORK, WHILE CONTINUING TO HIGHLIGHT BALMAIN'S SINGULAR PARISIAN HERITAGE.
A DISTINCTIVE ALL-BLACK GALLERY SPACE IS WHAT PASSERS BY WILL FIRST NOTICE THROUGH THE BOUTIQUE'S ENORMOUS FRONT WINDOWS; THIS LONG AND OPEN 45 SQUARE METER "PORCH" FUNCTIONS AS A TRANSITION BETWEEN THE STREET AND THE SELLING AREA. IT WILL BBE CONSTANTLY UPDATED TO FEATURE SPECIAL CREATIONS FROM ROUNSTEING'S FAVORITE ARTISTS AND/OR HIGHLIGHT THE HOUSE'S LATEST CAMPAIGNS, COLLABORATIONS AND COLLECTIONS. SET BEHIND THE PORCH, AND OPEN TO THE STREET ARE THE MANY INDIVIDUAL "ROOMS" OF THIS BALMAIN HOTEL PARTICULIER, EACH DEDICATED TO SHOWCASING ONE SPECIFIC PART OF THE BALMAIN UNIVERSE. OVERALL, THE SELLING AREA IS MORE OPEN, LESS INTIMATE. MANY QUINTESSENTIAL PARISIAN TOUCHES HAVE BEEN REPLACED OR UPDATED TO REFLECT THE NEW YORK MODERN AND URBAN SPIRIT.